Endpoint Insights
Hardware Inventory & Management Software Solutions
Hardware inventory management software is essential for any business that relies on IT equipment. By integrating Endpoint Insights, you can enrich ConfigMgr and CMDBs, allowing you to plan and budget more effectively.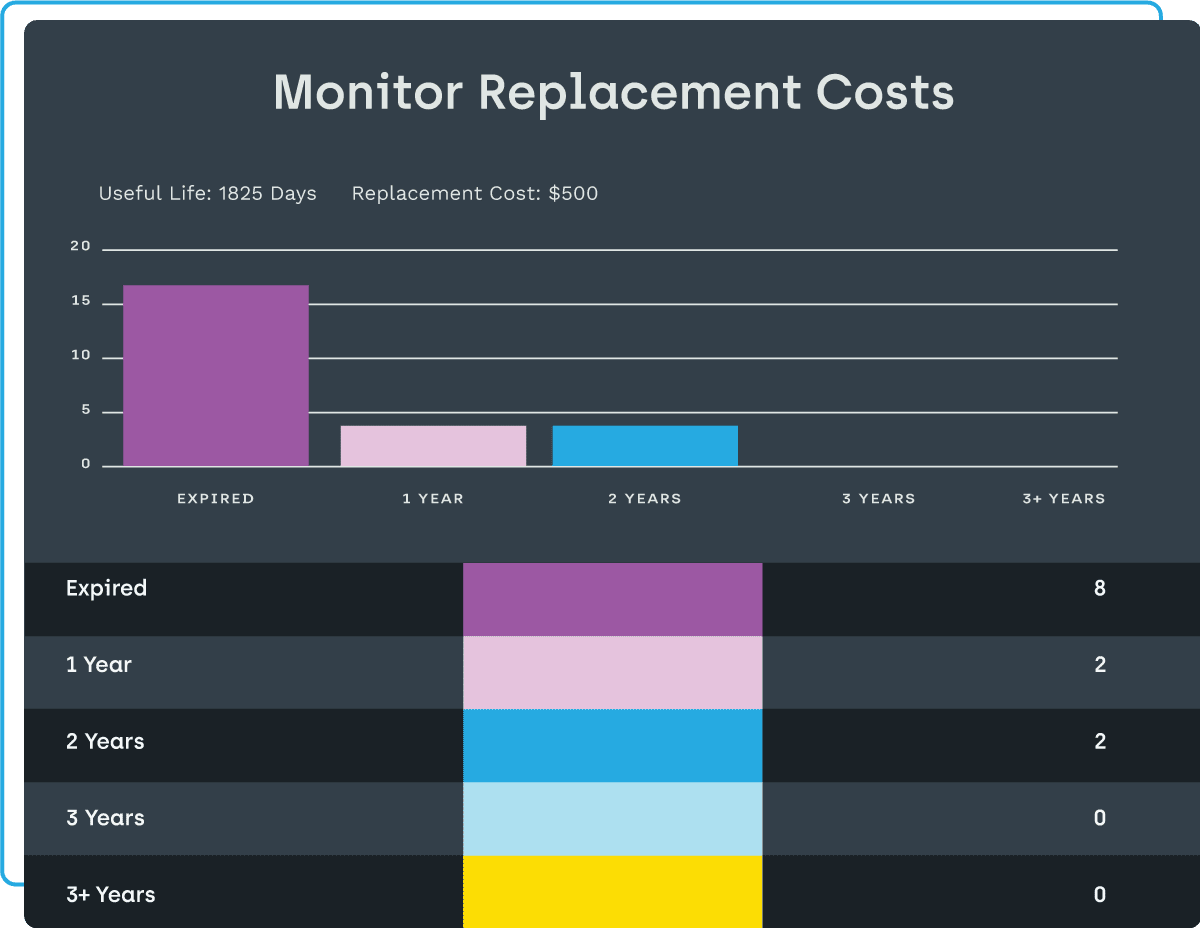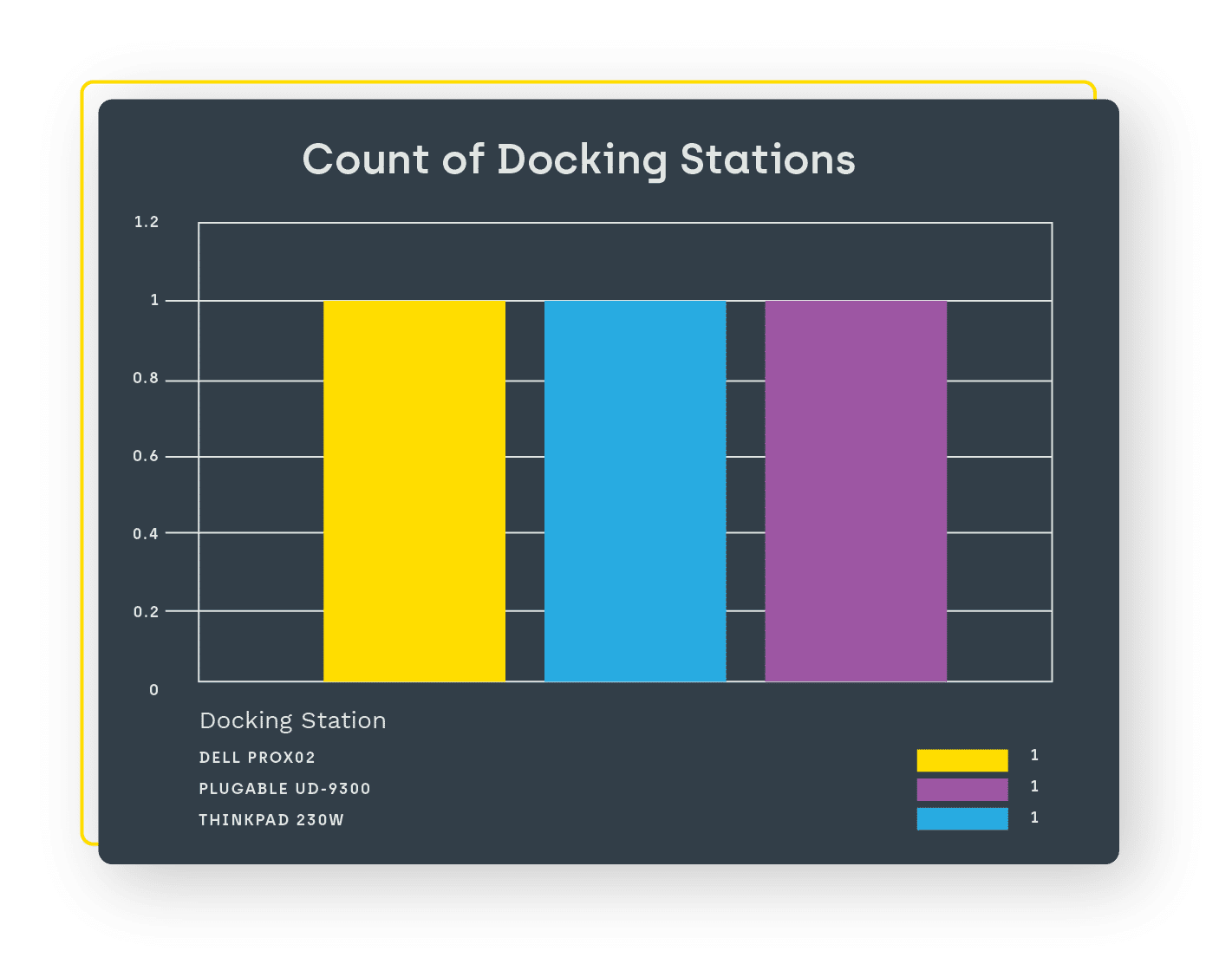 Monitor Replacement Costs
Count of Docking Stations
Up-to-date inventory
Getting a complete, accurate picture of your hardware environment can be a daunting and highly repetitive task. Especially with remote employees, devices changing hands, and many other constantly moving pieces, maintaining a solid inventory and planning accordingly may seem impossible.
Now you can know what computers, monitors, and docking stations are in your current inventory, instantly and automatically. You will also see the age and warranty status of those devices, helping you reduce financial and security risks, reduce potential end user downtime, and plan accordingly on hardware updates and replacements. Automatically keeping track of hardware inventory gives you greater control over various operations and saves countless hours of work.
Budget with confidence
Environment inventory is critical to having a budget you can stand behind. But collecting that hardware and warranty data and keeping it accurate is another matter. Too often, plans and budgets have massive blind spots and may need ample room for hardware failure surprises.
Knowing not only what is in your environment at any moment, but also having the age and warranty information on those devices is critical to planning for future hardware needs. With Endpoint Insights hardware inventory management software, you can easily make smarter decisions and minimize risk by pinpointing which devices to replace in any given timeframe – even years in advance.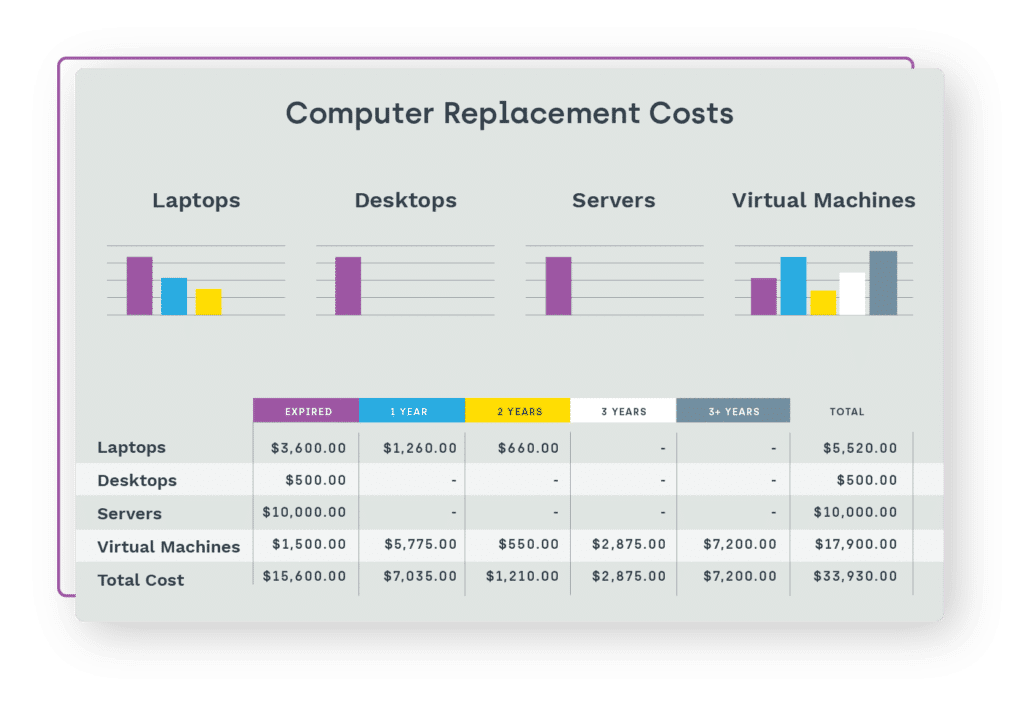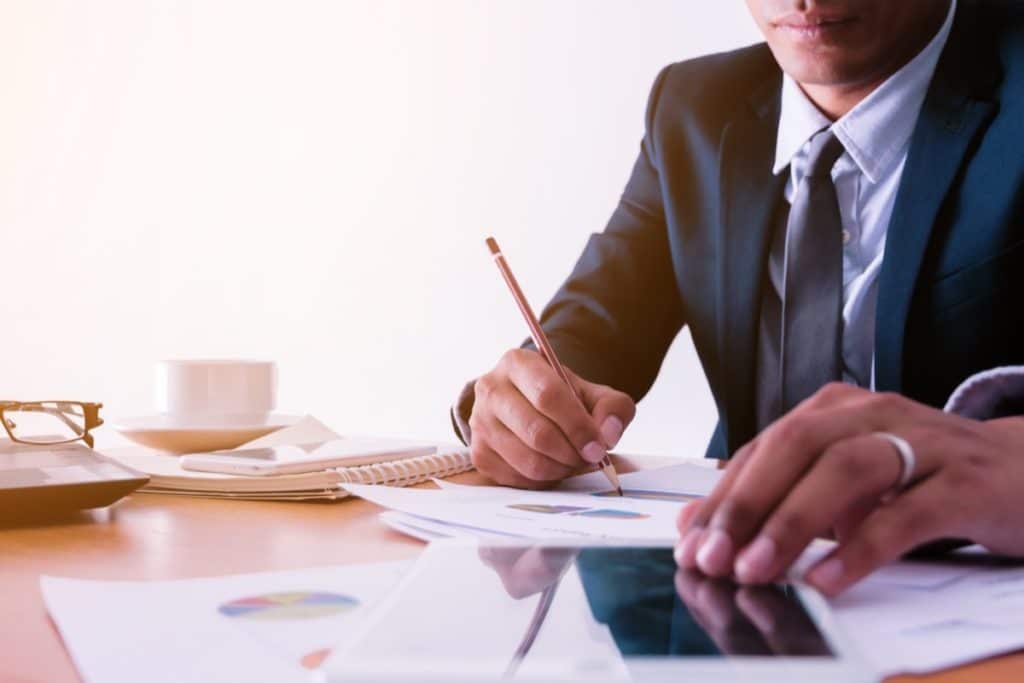 Reduce manual tracking
The time and constant manual effort it takes to keep your hardware inventory accurate can be a full-time position or worse. If you aren't able to keep up, end user downtime and out-of-warranty hardware replacement costs can become a major issue.
Hardware inventory management with Endpoint Insights captures all that data automatically, allowing your team to spend their time on other tasks. Plus, you'll get up-to-date user info for each device, complete with device location
"Endpoint Insights has eased capturing warranty data for our HP and Dell machines, and facilitating decisions of renewing hardware. The support provided is top tier and assisted us through any issues we had."
SCCM ADMIN
Take a look
In this video we showcase how Endpoint Insights removes the need to manually check an OEM's website for warranty information with its device warranty collection and reporting.
Hardware Inventory Management
User Installed Software:
Endpoint Insights gives you complete visibility into what software is installed on each endpoint, allowing you to see user-installed and IT-pushed applications. This makes it easy to track compliance and ensure that only authorized computer inventory software runs in your environment.
Monitors:
Suppose you want a listing of which users are using what monitors and what types of connections. Endpoint Insights instantly surfaces details such as model, serial number, size, date of manufacture, connection type, screen settings, and current resolution for each monitor directly into your hardware inventory tool. With this information, you can ensure that your users have the best possible experience when using your applications.
Docking Stations:
See all docking stations that are installed in your environment. This feature identifies the name of each docking station and the computers connected to it.
Software:
Find and keep track of all software installed on company devices. See the browser version, the.NET version, the PowerShell version, the most recently used applications, the operating system dashboards, the auto-start information, etc.
Computers:
Our PC inventory management software helps you keep track of all the computers in your network and the people using them. You can see detailed information about each computer, including its chassis type, computer type, CD-ROM drive, hard drive, memory, operating system, and more.
Endpoint Insights expands your computer hardware inventory management software to help you make more informed decisions. The additional datapoints that we pull into your computer hardware inventory make device refreshes a breeze while keeping the end user happy that they no longer need to worry about the hassle of receiving a device missing components that are critical to their job. Endpoint Insights simply makes device inventory management easier.
Warranty
Endpoint Insights' fully automated setup and built-in reports make it an invaluable asset for any business. Getting an accurate view of all the hardware inventory in your environment is critical to managing it all. When paired with warranty information, you get a complete view of all upcoming expirations and budget predictions.
Normalized Warranty Results
Endpoint Insights provides normalized warranty results to take the guesswork from managing your computer fleet's warranties. Our software makes it easy to see when each unit's coverage expires, saving you a significant amount of time and money in the long run.
In addition, Endpoint Insights works with any vendor, so you don't have to worry about compatibility issues. It's a truly versatile tool that can help streamline your warranty management process.
Retrieving accurate warranty status
Suppose you want to stay on top of your company's computer lifecycle. In that case, it's essential to know the warranty status for each machine. While most big manufacturers, like HP Inc., list this information on their websites, it can be tricky to get an accurate read. That's because HP (and other companies) recycle serial numbers every ten years.
Endpoint Insights solves this problem by automatically retrieving accurate warranty status for each of your computers. It's the perfect solution to save you the time and headache of manually looking up warranty information on each manufacturer's website.
How?
Endpoint Insights helps you manage your computer warranties more effectively by automatically collecting warranty status information and returning it to Configuration Manager. The new data Endpoint Insights collects is added to the ConfigMgr database, providing better insights on your assets than can be found natively within the ConfigMgr console. This process can save you a significant amount of time and money that would otherwise be spent trying to manually determine computer warranties. With Endpoint Insights, you can be confident that your computers maintain warranty coverage and that any potential problems are quickly identified and addressed.
Read Top 10 Features and Cool Tricks of Endpoint Insights to learn more about the time-saving, cost-cutting features of Endpoint Insights and to see how it can simplify the job of inventory planning.
Let's talk pricing
You've done the research. Now let's take the next step to help you uncover critical intel, reveal vulnerabilities, and quickly remediate issues. Request a quote today to get customized pricing for your organization!