Endpoint Insights
Software Inventory
View all the software currently in use within your environment, no matter how it was installed. Know what you have and what you are paying for.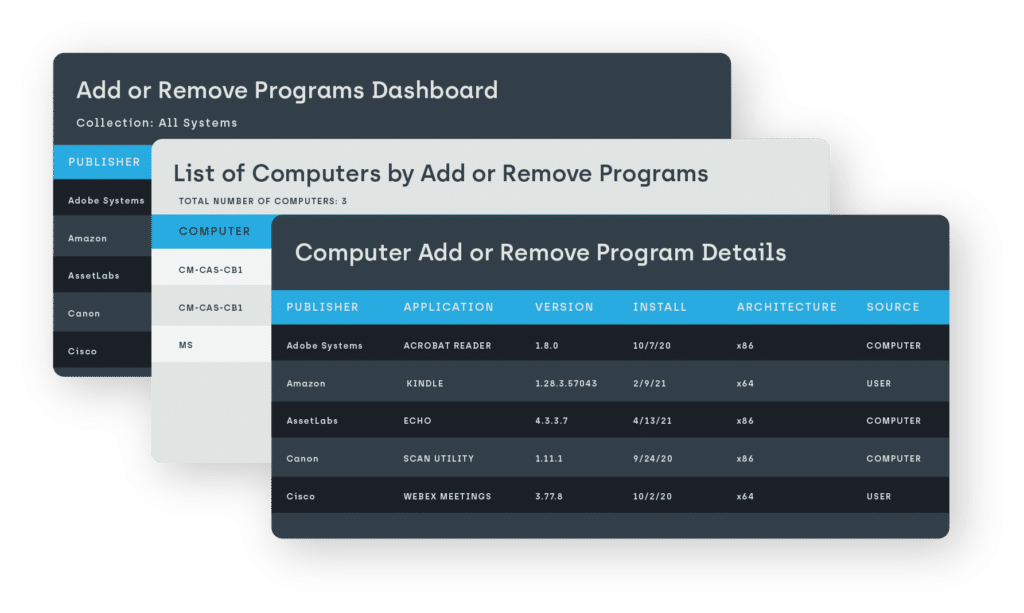 See all software, including user-installed
Getting a picture of your total software environment is an around-the-clock moving target. The different ways installations happen – ConfigMgr, Administrator, or by the user – can be difficult to consolidate or even access, leaving you unaware of potential problems, costs, and security risks.
Knowing every single piece of installed software, regardless of who installed it, is critical to ensuring the security, compliance and compatibility of your environment. Endpoint Insights gives you all that, plus what ConfigMgr can't see and keeps you well ahead of potential software licensing issues or excess.
Close security loopholes
Discovering potential security loopholes across your software inventory can be unattainable at the user level. This can feel doubly helpless, since being able to do anything directly about that non-compliant software can be equally difficult.
Get complete control over your software environment with Endpoint Insights. Automatically discover what software is installed and eliminate, upgrade or patch anything that could cause problems. You'll then be able to proactively protect your organization and better ensure software compliance.
Endpoint Protection Dashboard
Overall Software Update Status Dashboard
Computer Software Update Details
"Endpoint Insights product and support are top notch. Anyone I know who does anything with ConfigMgr I make it a point to tell them about this product."
DESKTOP ARCHITECT
Ready to get started?
Contact us today to get a customized quote for any of our endpoint manager software solutions!